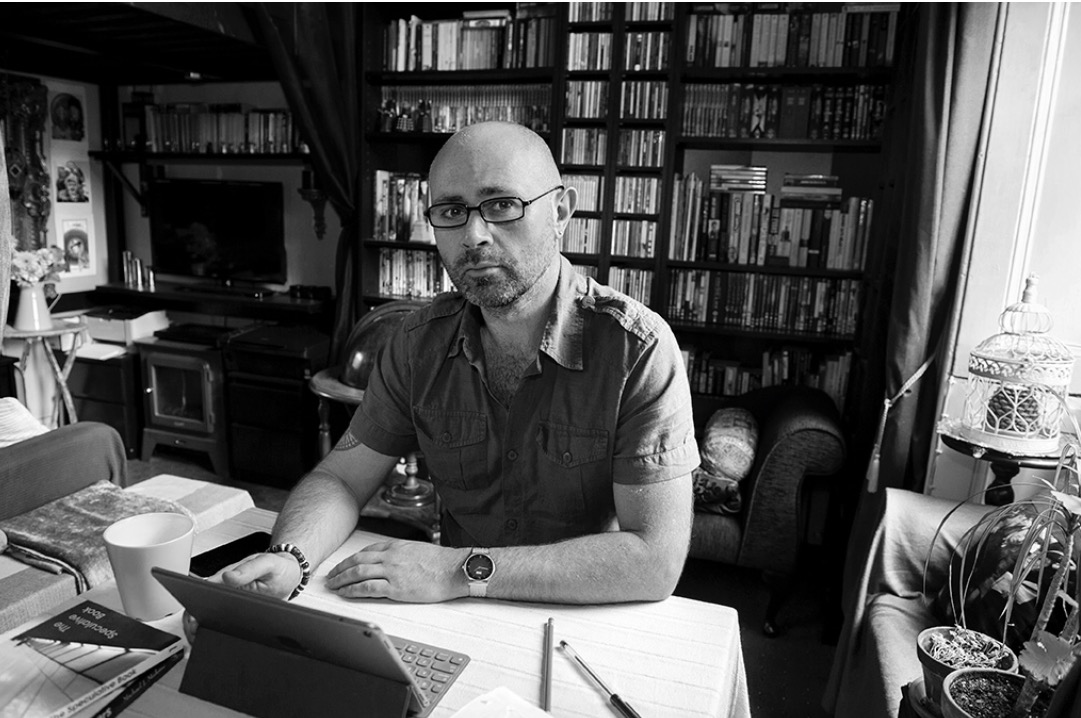 Hello, and welcome to my website. I am a writer of dark and terrifying things, ranging from psychological crime thrillers and twisted science fiction stories to strange literary deeds and outright horror gems.
In this website you can Enter The Bookshop where you will find some of my works. The Amazon/Audible link is here:https://nrnk.co/a/B06XHMZ2JY
You will also find a Proofreading & Copy-Editing service that I provide. For more information on this simply use the Contact page and I will get back to you.
I am also available for Events. I have appeared on many panel discussions in the past and I have chaired discussions too and I am listed on the Live Literature/Scottish Book Trust programme. Again, fill in the Contact page and I will get back to you.
Also available is my FREE monthly newsletter. Simply sign up and you will find out about all the terribly exciting things that are in the pipeline (and there are some biggies, that's for sure). In the meantime, have a stroll through my inky black imaginings, and watch out for that shadow…
Proofreading & Copy-Editing
I became a freelance editor in January 2019 and I have proofread many novels for Bloodhound Books and Bombshell Books (see book covers below) as well as editing books for indie and debut authors. I am a trained member of the Society for Editors and Proofreaders (SfEP) and the Glasgow Editors' Network too, so if you need me to take a look at your manuscript, essay, website layout or brochure then please don't hesitate to get in touch via the Contact page.
AUDIObooks
I am an audiobook narrator. I trained at drama school and was a professional actor for many years.
My debut novel was transformed into an audiobook for W F Howes. I narrated it myself and it is now on general release via the usual channels, including Audible.
If you wish to get in touch about this or any other projects then please do so via the Contact page.
Thank you.
Selected Works (as actor):
Performed readings from Not Having It All by Jennie Ensor, Waterstones Crouch End, London, 11th June 2019.
Narrator for A Murder Of Crows audiobook, 2018
Don John in Much Ado About Nothing, Byre Theatre, St Andrews 2004
Eteocles/Haemon in Thebans, Theatre Babel, (international tour to Cyprus & Taiwan) 2003
A Midsummer Night's Dream, Citizens Theatre, 2001
Tom in Like Thunder (Winner Fringe First Award: toured to Norway, Helsinki & St Petersburg (toured with author Kate Atkinson) 2001
Dalton/Michael in The Trestle at Pope Lick Creek/Heritage, Traverse Theatre, 2001
Carlos in G-Force ( 5 episodes) BBC Scotland, 2000
Broadway Bound, Perth Rep, 1999
The Merchant of Venice, 1997
Troilus and Cressida, Ramshorn Theatre, 1994
The Normal Heart, Ramshorn Theatre, 1993
Awards:
Winner of the Mary Marquis Award for Television Acting in 1997 & 1998
Events
As well as appearing at numerous events as an author I have also chaired events too. If you wish to get in touch regarding this then please use the Contact page.
Upcoming Events:
Ian will be chairing the book launch of Run by Jackie McLean at Waterstones Sauchiehall Street on Thursday 24th October at 7pm.
Newcastle Noir 2020. Details TBC.
Previous Selected Events (as author):
Rum Diaries Writers Block, Glasgow 2019
RNIB Radio Connect Interview, Glasgow 2019
Noir at the Bar, Harrogate 2018
European Championships, Glasgow 2018
Newcastle Noir, Newcastle 2018
Aye Write! Glasgow 2018
West Dunbartonshire Carers' Group, Clydebank 2018
Bloody Scotland, Stirling 2017
Noir at the Bar, Edinburgh 2017
Waterstones Crouch End, London 2017
Shirley Whiteside Radio Interview, Glasgow 2017
A Murder Of Crows book launch, Blackwells, Edinburgh 2017
A Murder Of Crows book launch, The Raven, Glasgow 2017
Waterstones Byres Road, Glasgow 2017
Speculative Book Launch, Glasgow 2017
Previous Selected Events (as chairperson):
Newcastle Noir: Spirits in the Material World – panel discussion with authors SJI Holliday, William Ryan & Anna Mazzola, 4th May 2019
Book launch for The Sewing Machine by Natalie Fergie at Waterstones Byres Road, 2017
Book Launch for Ashael Rising by Shona Kinsella at Alexandria Library, Alexandria 2017
I also have a YouTube channel which features various public readings from my work, interviews and other things related to what I do. For more info click here or scroll to the social media links at the bottom of this page.
Contact
Ian Skewis is an author, proofreader, copy-editor, audiobook narrator, public speaker and chairperson of events. If you want to contact him about these or any other projects, then please use the form below. Thank you.
contact@ianskewis.com
reviews & AWARDS
A Murder Of Crows
'An impressive thriller.'
-SUNDAY HERALD
'Shades of early Iain Banks.'
-RUSSEL D McLEAN, Author
'Skewis skilfully creates an atmosphere of foreboding from the opening and doesn't let go until, breathless, you reach the last page.'
-MICHAEL J MALONE, Author
'One of the standout thrillers of 2017.'
-BROOKE MAGNANTI, Author
Winner of the Gold Acorn Award for Best Audiobook of 2018.
Longlisted for the Guardian's Not The Booker Prize, 2017.
Inkling, (The Speculative Book)
'His Martian vistas, simple dialogues, and dream-like imagery resonated with the same metaphysical surreality as Samuel Beckett.'
-CHARLOTTE Le GOOD